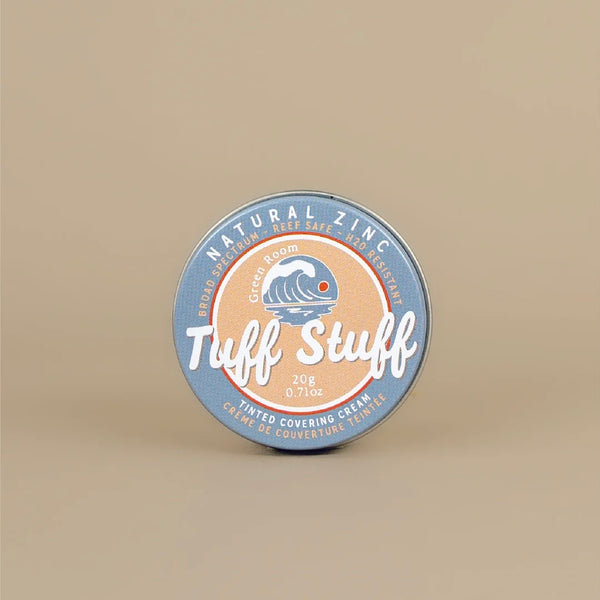 Tuff Stuff really is, the toughest stuff. Designed for outdoor enthusiasts who face the harshest environmental conditions, our zinc covering cream is your skincare solution. 
This formula uses only natural and nature-identical ingredients. It is broad spectrum and super water resistant to keep your skin protected and hydrated during any land or water-based activity. Because this is a thicker formula, Tuff Stuff stays put and will not rub off with sweat or drip into your eyes while swimming. Zinc oxide, a mineral UV blocker, is the most reef-friendly ingredient in comparison to other UV blockers such as Oxybenzone, Octinoxate, ButylParaben, and 4-methylbenzylidine camphor.
Our covering cream is tinted so you don't have to worry about looking like a 1980s lifeguard. Like all zinc oxide based products, there is a slight white cast to the product on your skin. Our current shade is not a one size fits all and as Green Room expands, it is our goal to make more inclusive tones. Regardless of skin colour though, rest assured that a solid white nose is a thing of the past!
The metal tin is our choice of sustainable packaging as it can either be re-used indefinitely or completely recycled without any loss in material. 20g / 0.71oz.